With many years of reliable service from our water Hydraulic fixed ratio products under our belts, it's time to grow into new opportunities.
Many of our clients enjoy the reliability and ease of maintenance offered by our unique valve design but are also faced with variable upstream pressures and uncertain downstream conditions. To date, variable incoming system conditions have ruled out our water hydraulic fixed ratio solutions as an actuation method and required the inclusion of electric actuators and additional telemetry to signal the actuator.
We have taken a step towards expanding our market drastically and can now offer an adjustable Line fluid actuation (water hydraulic) solution which can be manually adjusted and set on site.
This addition to our product range improves our scope of solutions to include variable downstream control and removes the constraints of fixed ratio solutions but retains the efficiency benefits of using the existing in-line pressure and fluid to actuate and sense.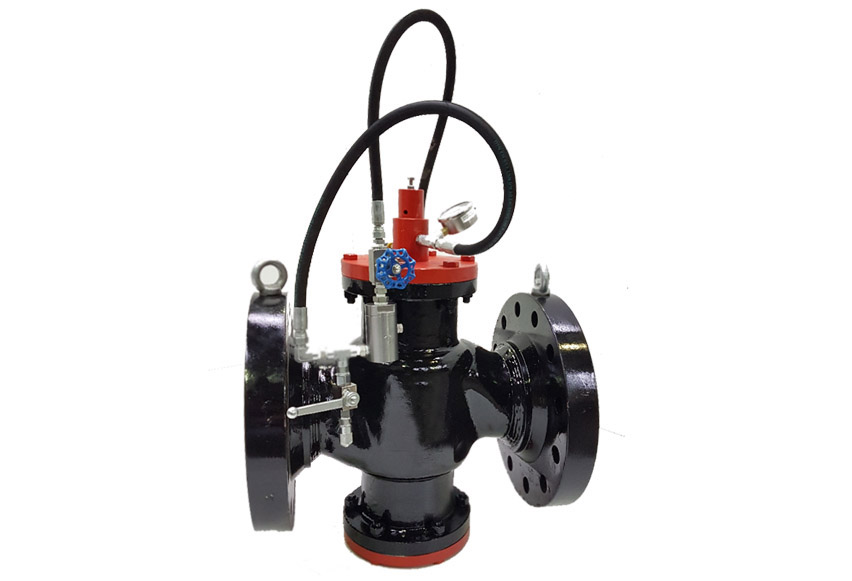 Although our Adjustable Line Fluid Actuator has the benefits of our regular line fluid actuation (water hydraulic) systems from an efficiency perspective, the addition of an adjustable component requires proportional flow to take place in the control chamber from time to time. This results in a higher volume of flow passing through the control chamber when compared to our fixed ratio option which requires an extremely low volume of water to control.
From a maintenance perspective we have included an easily maintainable strainer, large porting and a direct mount arrangement to reduce the risk of hydraulic locking due to blockages from in-line debris. To further increase reliability we have incorporated a static sense line which controls the actuators reaction point.
Larger porting ensures that small particles entering the control system have no effect on the functionality as they can simply pass through the system.
Direct mounting onto the control chamber removes the risk of blockages or breakages in control tubing. This method also allows for far larger orifices and therefore improved reliability.
The static sense line reports system conditions to the actuator constantly but with practically no flow passing through the sense line after commissioning. The lack of flow will contribute to the reliability as no particles or objects can be carried into the controller under regular conditions.
The end result is an easily adjustable and maintainable controller with minimized risk of dirt in the line which offers a stable control function using in-line fluid and pressure for sensing and actuation without any additional requirements.